Here are a few of my favorite Irish websites...

Irish Culture and Customs
Wonderful site with a variety of interesting things to read from Irish News to Recipes to Poetry.


SMAOINTE - Handsomely designed greeting cards
with text in the Irish language, produced in Donegal.
| | |
| --- | --- |
| | "Mysterious World Ireland" You've never seen a book like this, and the website is as unusual as the book! This great little (if you can call 770 pages little) book is not just a terrific travel guide, but it's also crammed with the history and magic of Ireland. Some of my paintings can be found in the book. |
Spirited Ireland
A labor of love from a German photographer who traveled to Ireland
and lost her heart. Breathtaking photography, jigs and reels, maps, and much more.


Their Irish Book Club is a wonderful way to receive books on Ireland
four times a year, fiction and non-fiction, hand selected for you by Des Kenny.


Kenny Art Gallery, Galway -- Best Art Gallery in the West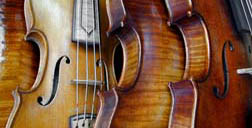 OTIS TOMAS, the subject of my "Unfinished Violin" painting, has an elegant website
filled with gorgeous photography of his tools and studio. He explaines
how he designs and builds his violins.



Contact Barrie Maguire Back
Paintings of Ireland: James Joyce, W.B. Yeats, Oscar Wilde, John B. Keane, Samuel Beckett, Bodhran Player, Aran Island Cottage, Dunworley Strand, Grafton Street Musicians, Burren Sketches, Connemara landscapes, Limerick landscape, Achill Ram, Sheep, Irish Cemetery, Irish Quilts, Prints of Ireland